Under BSRF, checkpoints in Transperth parlance act like "timed stops":
"For example, I catch the bus every morning. It's supposed to pick me up at 7:01am but it always comes at 6:56-6:58am, because there's not much traffic at that time of the morning.
We zoom down the road and providing nobody gets on the bus (or it only has to stop once or twice), the bus ends up becoming another 1 or 2 minutes earlier than it should be.
Then when we get to a timed stop 5 minutes early, the bus stops and waits there to use up all that extra time, which means the bus should run on time for the next block of stops in between there and the next timed stop."
This is practiced by TT Perth. Timed stops are published in printed timetables, so passengers know the buses will arrive at these fixed times: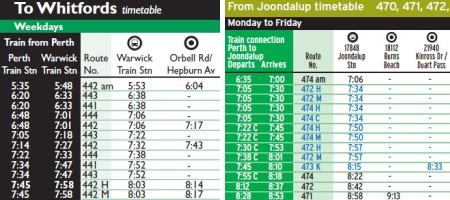 BCM/GCM operators intend to adopt the same practice:
"The driver announces over the intercom: "Ladies and gentlemen, the bus will be held at this stop for two minutes to regulate the service."
This London scenario may soon become commonplace for bus users in Singapore."
Checkpoints were already in place since the mid-2000s under SBS Transit, but they were enforced in a more subtle manner:
"When traffic conditions are especially clear, our Bus Captains are required to regulate speed if they notice that they are ahead of schedule. This ensures that the Bus Captains keep the arrival times at the bus stops as close to the planned schedule as possible to avoid any disruption like bus bunching."