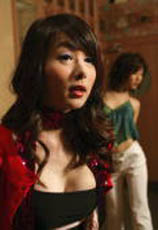 Pretty pop princesses are a dime a dozen, but meet "Lady," not your typical girly group. These four foxy sirens are creating media frenzy as they poise to take the entertainment industry by storm. Korea's first transgender group is set to release its debut album in a Euro-dance style.
And its members -- Sine, Sahara, Binu and Yoona -- born as 'he's are now 'she's with looks that many natural-born women would kill for.
"We love chocolate, shopping and gossip. Mentally we were always women, the only difference being that we changed something physical, simply we are women with an extra scar," said one group member.
And Lady's agency is banking on this with the manufactured group. In fact, the decision to create a transgender quartette is already reaping a marketing pay off.
It's hard to believe that the members of lady aged 22 through 29 had to compete with other transgender contenders in an audition, where they say, almost 400 other showed up for their shot at fame.
"Many people are speculating that you are trying to cash in on the novelty of being transgendered, but many are skeptical about if you have any talent, what do you say to that?" "Soon we'll show everyone what we've got on stage."
Part of the paparazzi can be owed to the pioneering role of the Korean singer Harisu, who successfully created a niche for transsexuals in the traditionally conservative Korean entertainment industry.
All post-op transgenders, the members of Lady say that they are hoping to find acceptance from the public, having been warmly embraced by their families. "It was hard for them at first, but now they support me." "I was very fortunate, when I became an adult and went to get my gender reassignment surgery, my whole family came to support me."
But in a fickle industry their long-term popularity will depend on the quality of music they deliver, and only time will tell. Waiting in the wings until the curtains go up on their big debut, each day is spend to the hilt, focusing on preparation, and for now they are just "ladies, in waiting."
Arirang TV