HONG KONG - Like the rags she turned into clothes for her siblings in Hong Kong, Chinese-American designer Vivienne Tam has lifted the Made-in-China label out of the discount bins and onto the world's catwalks.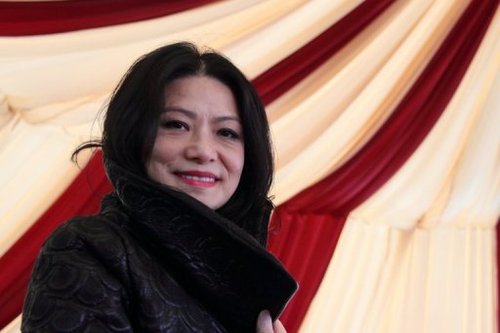 Chinese-American designer Vivienne Tam has lifted the Made-in-China label out of the discount bins and onto the catwalks (AFP/File, Joyce Woo) 

Many artists claim to blend Eastern and Western styles, but few have done it better than Tam.
Her China-infused work has graced the likes of Julia Roberts, Beyonce and Madonna, and last year Forbes magazine named her among the 25 Top Chinese-Americans in Business.
Looking back at the start of her career in the early 1980s -- when she roamed Manhattan selling garments directly out of a bag -- she said it was tough convincing US fashion houses to believe in her Chinese talents.
"When I first arrived in America, people thought there were no Chinese designers. You looked around and only saw American and European brands," Tam told AFP.
"They thought you wanted to sell cheap T-shirts, cheap things. I said 'no'."
She set out to "change how people looked at China" and remind them of her homeland's historic brilliance in design and craftsmanship.
"Changing perspectives, people's minds, is hard -- it takes time but it can be done," said Tam, wearing a lace dress, a quilted coat and black suede shoes.
"I really wanted to change how people looked at China, to show that China is not only a manufacturer, that we too have designers... I had to prove that what was made in China was good."
Her determination paid off. Today her shops can be found in many major cities around the world and her East-meets-West style -- featuring motifs such as fat-faced Chairman Maos and lotus flowers -- has broken into the mainstream.
Pieces of her work can be found in the archives of the Andy Warhol Museum in Pittsburgh, the Metropolitan Museum of Art in New York and the Victoria and Albert Museum in London.
Tam's autumn 2011 collection is dappled with cascading sleeves, pagoda-shaped shoulder pads, high collars and embroidered dragons, themes the designer borrowed from ancient Chinese Kun opera.
In 2006 she published "China Chic", a glossy book examining how Chinese style has influenced the world not only in fashion but in cuisine and furniture as well.
Moving from designer to celebrity in her own right, last year she starred as a judge on reality television series "Project Runway", about up-and-coming designers.
It is all a far cry from her humble roots in southern China. Born in 1957, Tam started life under communist rule in Guangzhou, now one of the smog-filled industrial centres of the country's factory-fuelled boom.
But communism did not suit her parents, so they fled to British-ruled Hong Kong when Tam was just three years old. Despite economic hardship, Tam said the next 22 years in Hong Kong were "happy times" as she went on to study fashion at a local university.
After moving to New York to pursue her dreams in 1982, Tam sold her first designs to Henri Bendel -- the launcher of many a fashion career -- and a handful of other Manhattan boutiques. Her first collection appeared in 1994.
"I went (to America) with a dream. To this day I can't believe it, that I developed a brand," she said.
There is a Chinese saying that goes, "When you drink from the stream, remember the source", and Tam likes to believe she has stayed true to her origins.
"My mother had a great influence on me. When I was young, during Chinese New Year, we didn't have money to buy new clothes, so my mother suggested buying leftover bits and pieces of cloth to do patchwork -- make new clothes for ourselves," she said.
"This inspired me to embrace individuality, to be unique, to have our own style. What we wore -- it was unique, the only piece in the world, special."
She encourages young artists, whatever their cultural backgrounds, to follow their hearts.
"Do what you are passionate about. Things can happen," she said. "Life is a statement -- make it a good one." 

by Joyce Woo