Newsflash:
Eusoff Hall holds 2nd Annual Exposure Camp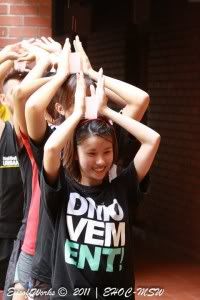 Hot on the heels of Kent Ridge Hall's Camp Blue Blood, Eusoff Hall held its second annual hall exposure camp in the final week of May. The event, dubbed Camp Yellow Fever, drew a total of 40 freshmen. This is twice as many as  last year's pioneer exposure camp.
The three-day event, which began on May 25, introduced campers to hall life and culture – not to mention some of the classic orientation games we all know and love.
Wan Yi Tham, a business student matriculating in August was impressed by the camp councilors. She said, "When I saw the deep friendship my OGLs shared, it really made me want to stay in Eusoff Hall and become a part of that tight-knit community."
Eusoff Hall is well known as a sports hall, having won the university's annual Inter-Hall Games (IHG) for six consecutive years. In addition, the hall has garnered accolades in other fields. Last year, the Eusoff Hall Rag and Flag teams won four out of the five awards in the halls of residence categories.
However, hall life is not just about awards and achievements. Goh Koon Hui, a second-year arts student, said, "After two short semesters in Eusoff, I've made some of my closest friends. These are relationships that will last long after I leave university."
Students who wish to enjoy their own hall experience should hurry – The deadline for hall stay application is at 11:59 pm on June 1. Those who wish to learn more about Eusoff Hall, or the admission process can contact the Eusoff Hall orientation committee at [email protected].
This article is written by Luke Vijay for THE RIDGE News.
For more information about THE RIDGE, visit our Facebook page http://www.facebook.com/nussutheridge#!/ nussutheridge
More behind the scenes photos of Camp Yellow Fever: